I wasn't sure if I'd be able to make it to DrupalCon in Lille this year, but I was fortunate enough to get accepted as a mentor. This covered the cost of the ticket, but in return I was expected to spend the contribution day helping first time contributors.
The next bit is about travel. I'll try to keep it brief, but feel free to skip to Tuesday.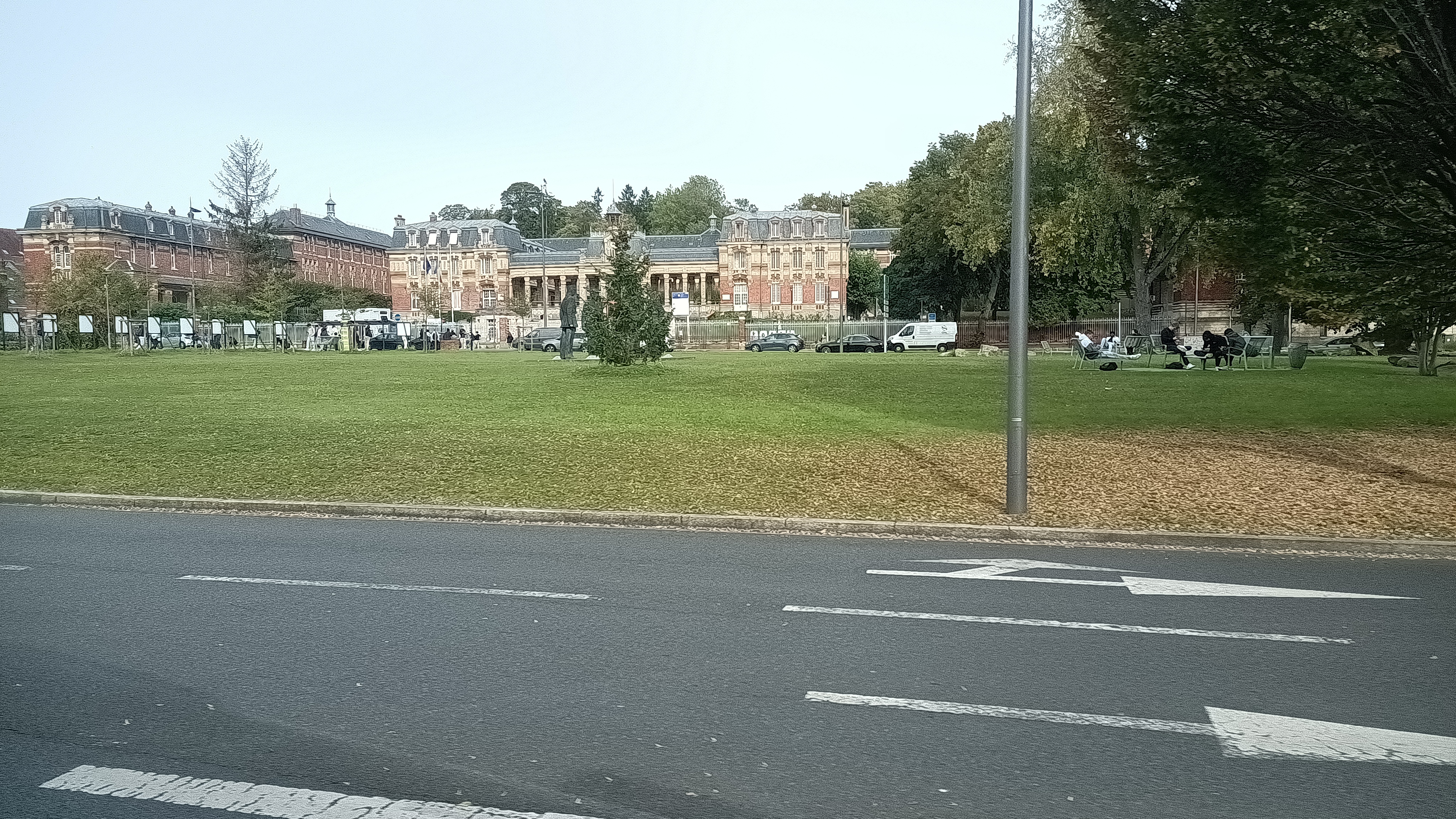 Flew to the wrong Paris airport (Beauvais - very nice place, must come back some day, but a long way from Paris), hurried to catch local bus to train station, caught train (double-decker!) to Paris Nord, caught train to Lille (TGV! - according to my phone we hit 300kmh) (double-decker!). Got to Lille. All very efficient, but it did take all day. Budget travel can be a pain!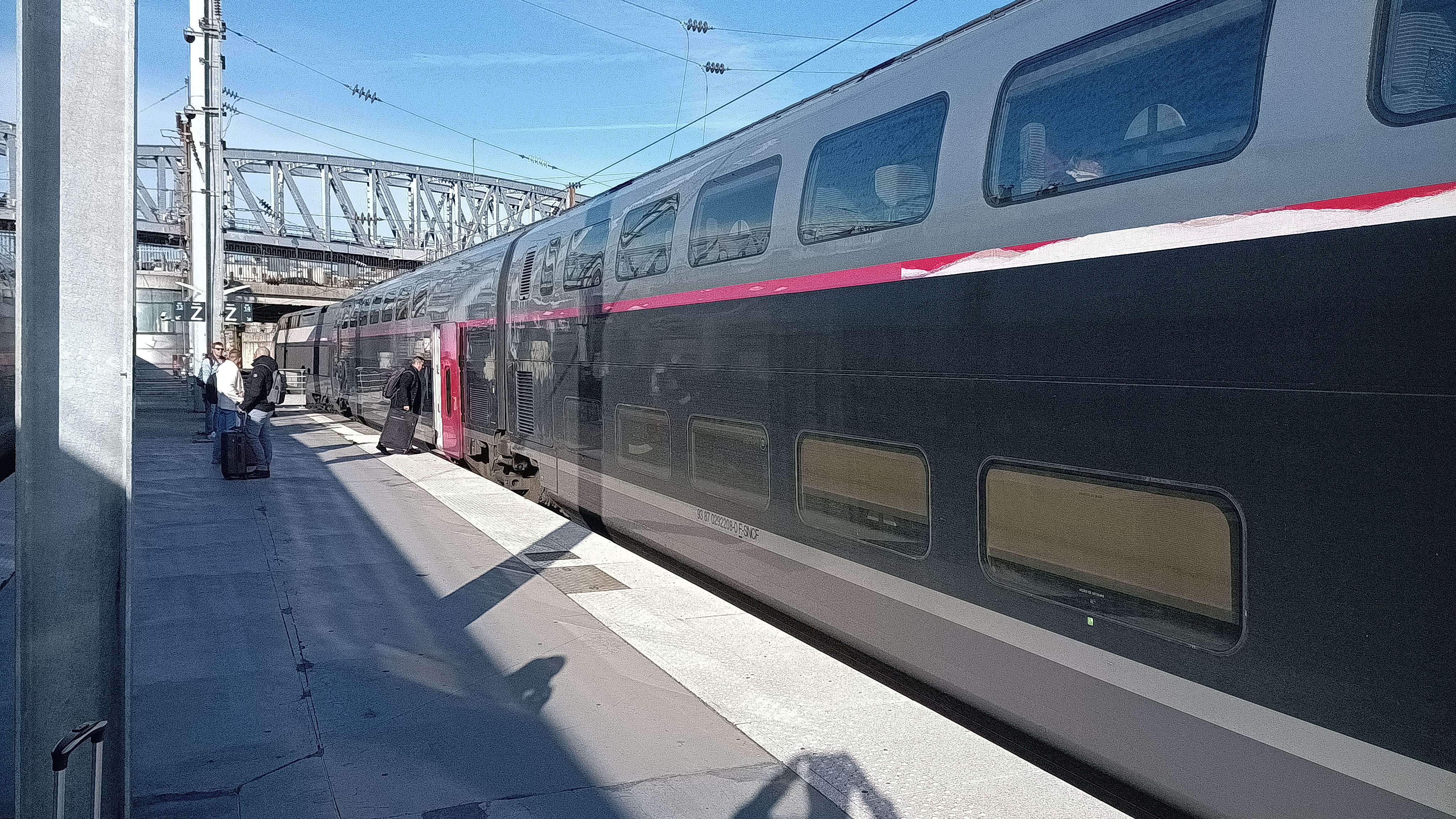 I got checked into my apartment, which was very pleasant, and found out there were some people meeting in a bar, back into the city centre.
I met up with various Drupallers and had some very interesting conversations, as well as some Flemish Stew.
Tuesday - DrupalCon Day 1
On Tuesday I made my way to the convention centre. I was following the Google Maps directions, which involved going all the way back to the train station and around the other side to the Lille Grand Palais. The walk took nearly half an hour. I was fairly sure there was a shorter route that avoided going around the train station, but I wouldn't find it till the next day.
I was aiming to make the volunteer briefing and tour of the venue, but just missed the start of it. I managed to catch up with them at the end of it, in the contribution area.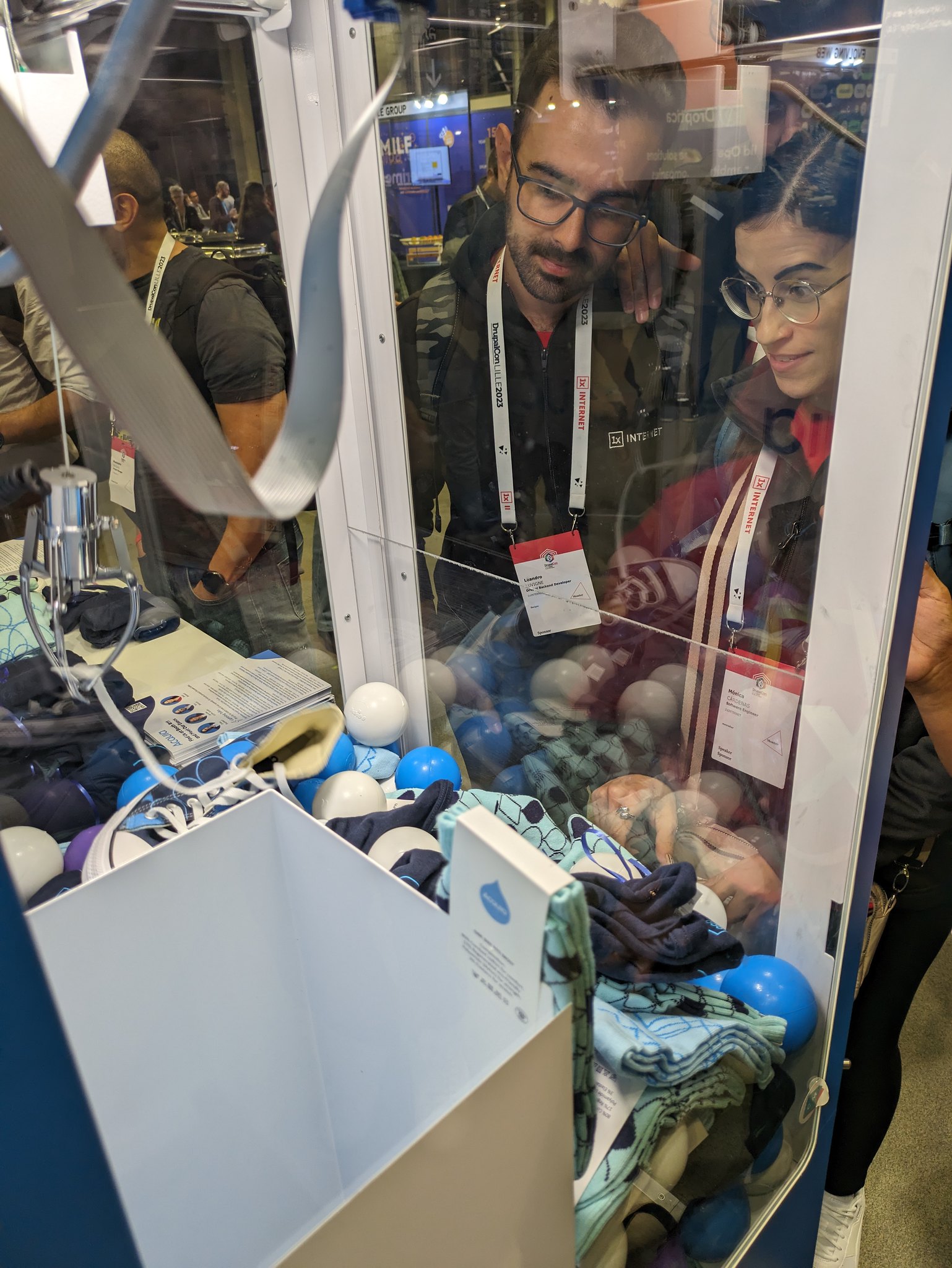 The rest of the morning was spent exploring the exhibitor area. There were lots of interesting stands, and lots of companies I spoke to. The most memorable included Acquia who had an awesome "claw" game machine in their area, which had t-shirts, socks, and other cool prizes inside. DropSolid were making waffles in their booth. I had a lot of waffles. And. of course, Pantheon had a t-shirt screen printing facility, and were producing shirts to order, which is a great way of ensuring they don't end up with lots of unwanted t-shirts at the end of the weekend.
Then was the opening ceremony, which was followed by the Women in Drupal awards. Last year this was a separate event. I'm pleased to see it moved into the opening ceremony, as I wasn't sure if I would be welcome at it last year. It was great to see women get recognition in an area that is often male dominated.
This was followed by the Driesnote. This is probably the most famous event at every Drupalcon, where the creator of Drupal gives a rundown of the state of Drupal and future plans. This year's one was a little different, with a story book format and some (not so) subtle digs at competing products. He introduced the "Marketing wizards", and new initiatives such as having a Drupal presence at Web Summit.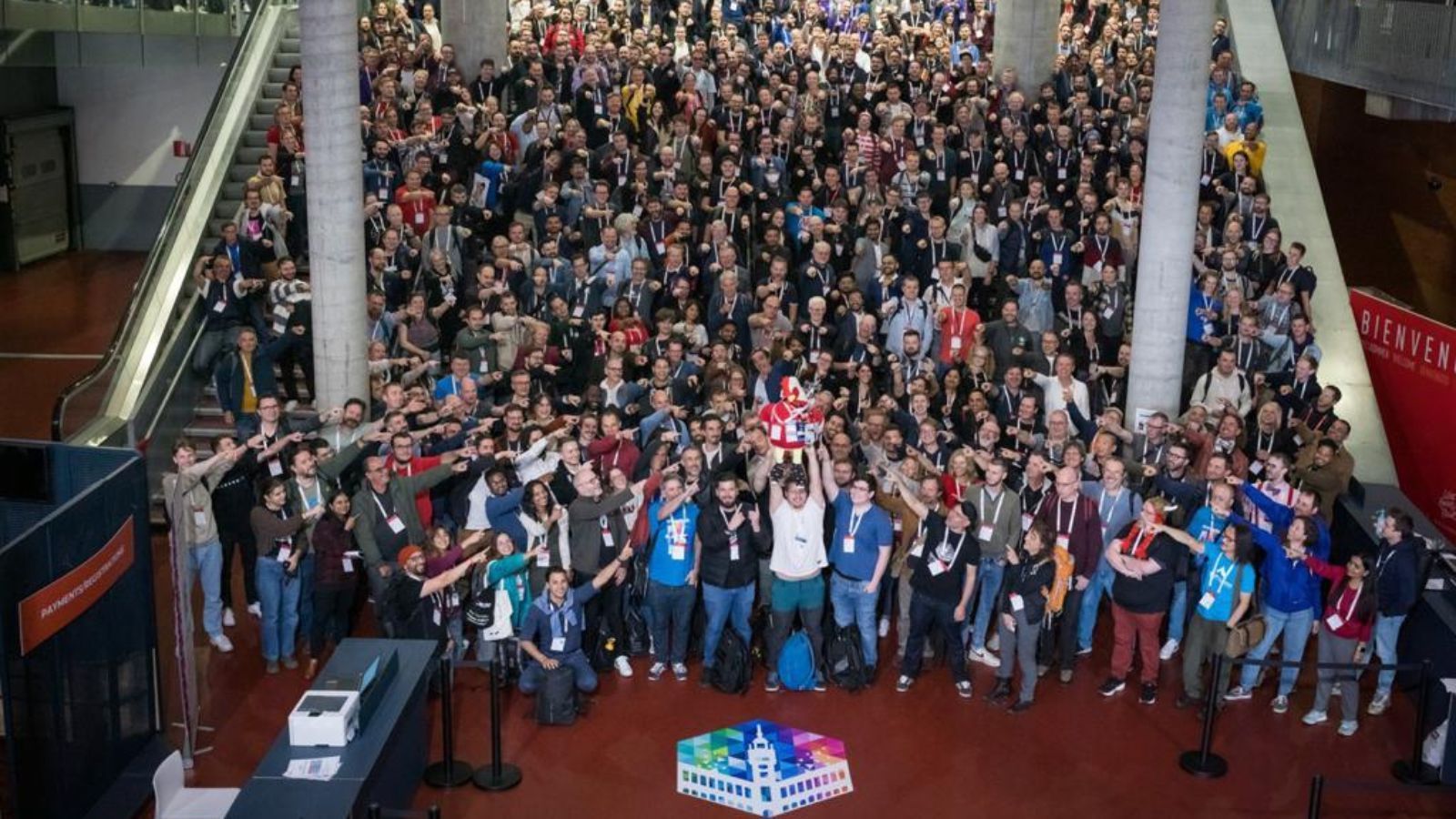 Following the Driesnote, we assembled on the main staircase for a group photo. I happened to stand next to someone dressed as Wally (or Waldo for Americans). Can you find him?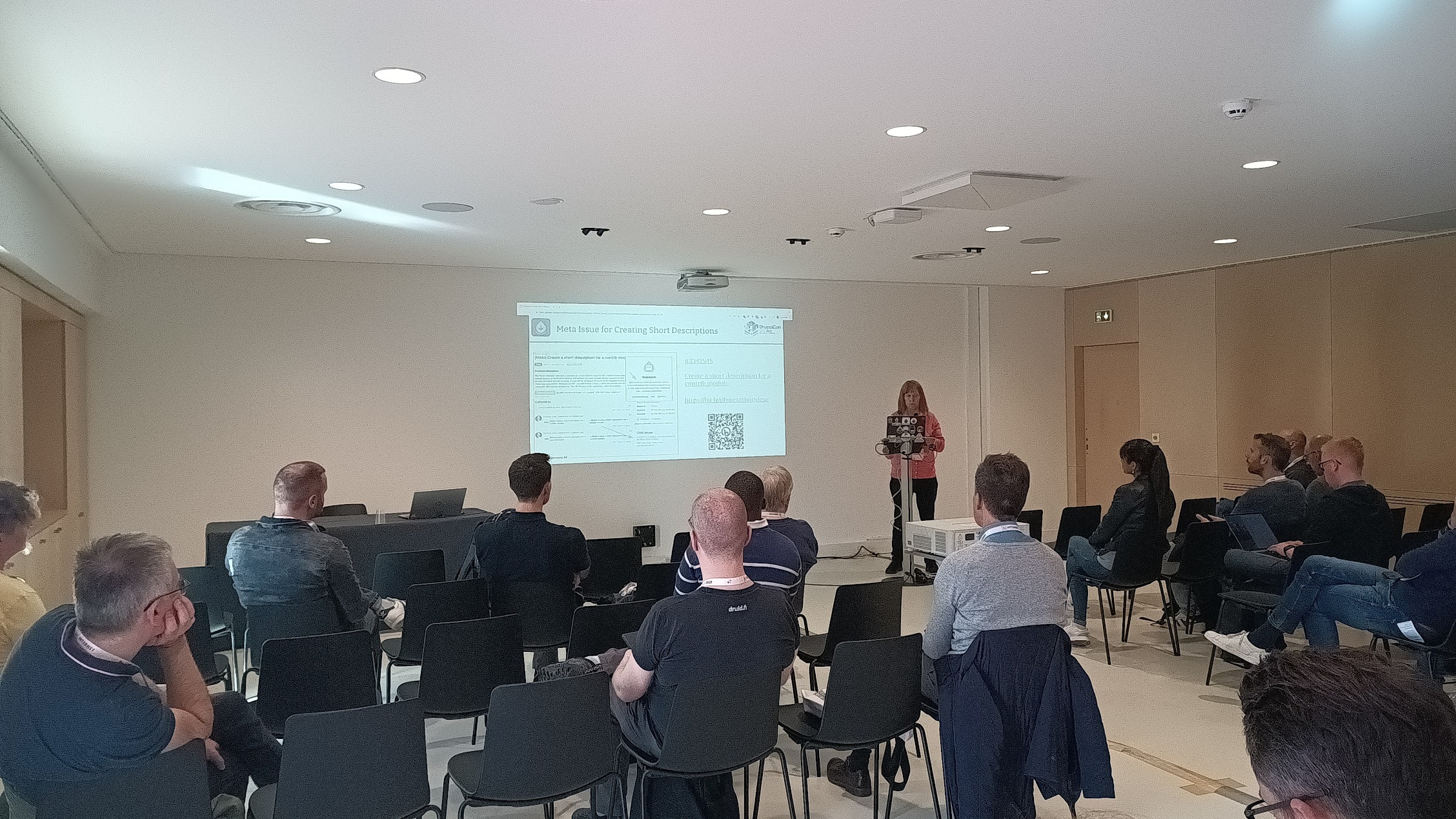 Next, I went to the session on Project Browser, which is a project I've been contributing to. The project is beginning a process to become part of Drupal Core, which is going to be an exciting development.
This was followed by a BOF (Birds of a Feather) session on Project Browser, mainly aimed at module maintainers on how to get projects to feature in Project Browser. There was some useful discussion on how to make it easier for maintainers to accept new logos and improvements for Project Browser.
I finished the afternoon attending the first time contributor workshop, which I felt would be helpful for the mentor role. It was an excellent presentation, but it is in the process of being updated at present. The current version is designed for a longer timeslot, so it was a bit rushed at the end. I think some work is needed to identify the parts to skip or summarise for a shorter timeslot. It's a good workshop, and even if you've already contributed it's worth doing as a refresher if you haven't seen it for a while.
That evening I ended up in a group with AmyJune, Chris, Markie and a few others. We ended up in a Thai restaurant, which wasn't bad at all.
Wednesday - DrupalCon Day 2
I found a shorter route under the ring road, which avoided going all the way around the train station. There seemed to be a lot of weeds along the footpath, which left me wondering did anyone use it, but at least there was a footpath, and I met other people along the way, so clearly I wasn't the only one using it. It did involve crossing some busy roads, and it felt like a lot of the potential time savings were getting eaten up waiting for pedestrian lights to turn green. However, I got to the convention centre in under fifteen minutes, which was a big improvement.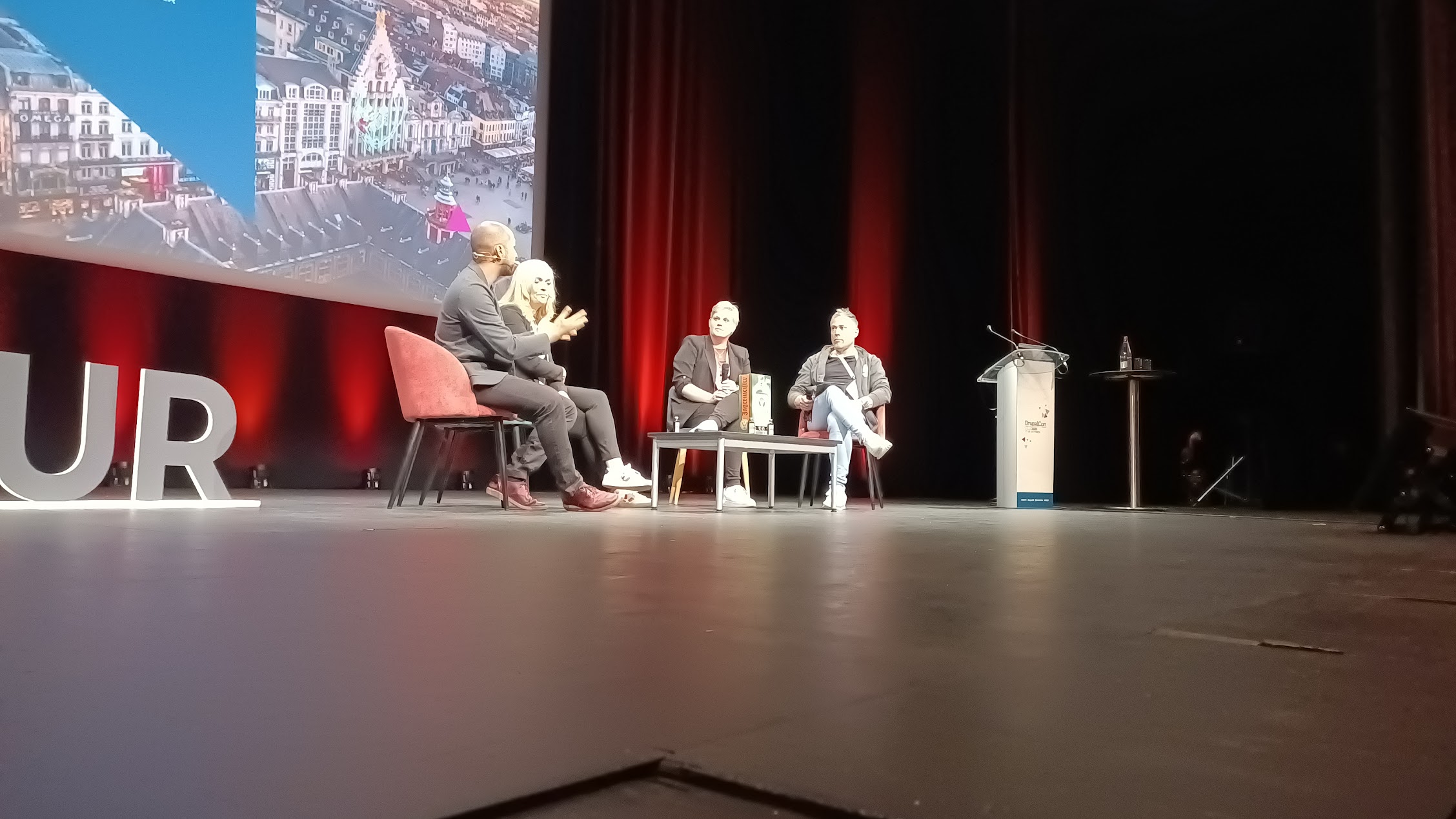 For the first session of the day, I was volunteering as session monitor. As this was a keynote session, a lot of the tasks a session monitor needs to do, such as passing around the microphone, weren't needed. All that was needed was to take a note of the audience size and alert the volunteer team if there were any problems (thankfully there were none).
The session itself was interesting, with representatives from Jagermeister and KitKat talking about their process adopting Drupal to manage their websites.
After that I was sitting on the Mentor Booth. This mainly involved chatting with people who passed, asking if they were coming to the contribution day, if they'd contributed before, and if they had, if they'd be interested in helping with mentoring. I was also encouraging people to attend the first time contributor sessions. The mentor booth was next to the massage station, and the massage station was definitely more popular. But more about that later.
For the next couple of hours I was on volunteer duty at the registration desk. This was pretty uneventful, as most people had already arrived by that point. It was nice to sit and chat with other volunteers, even if not much was happening.
In the afternoon, I attended the Mentor Orientation session. This was a run through of how we'd be working on Contribution Day, and what to expect. I had been feeling pretty strong imposter syndrome, but I certainly felt a lot better after this session.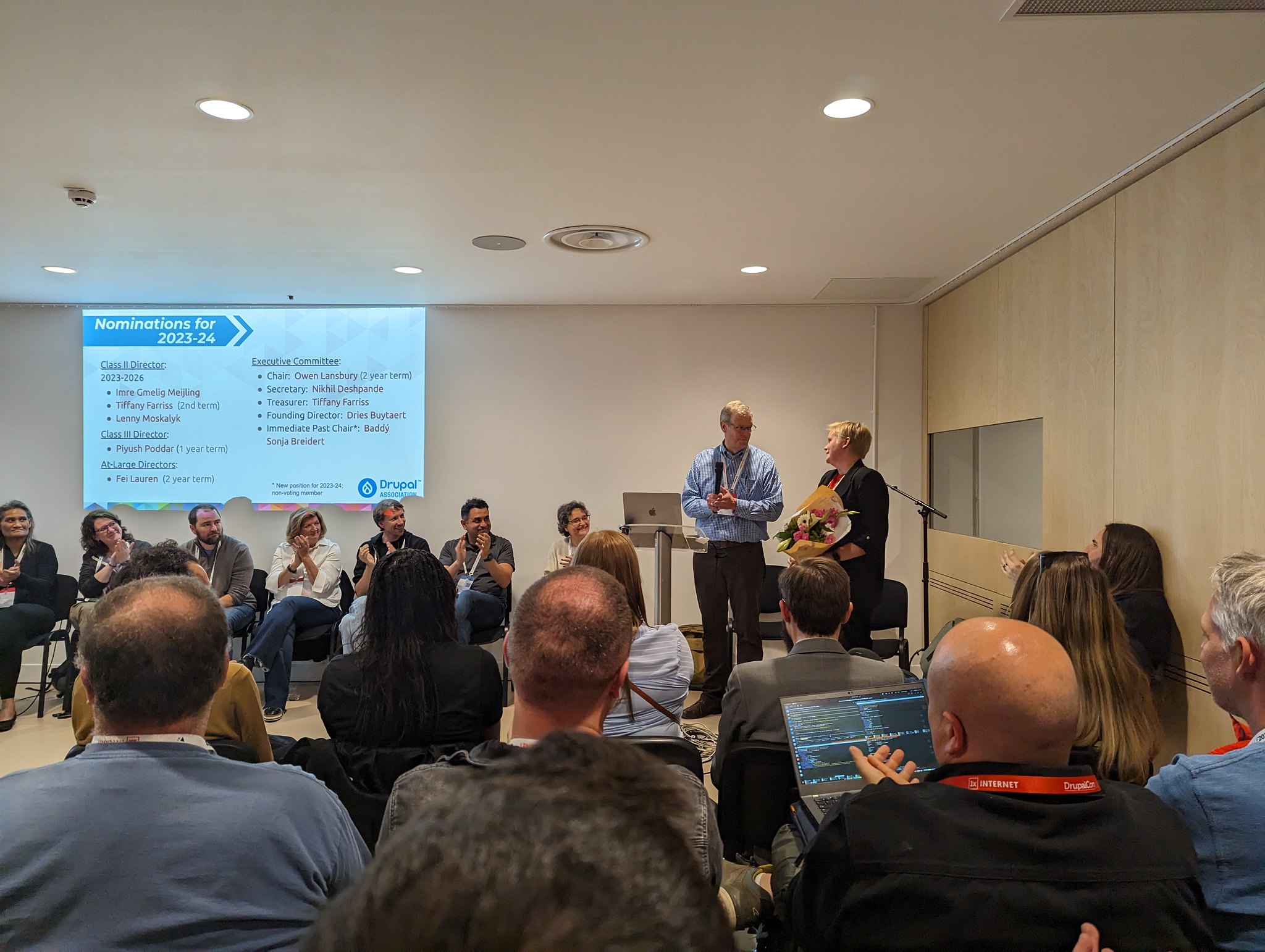 Next, I went to the Drupal Association board meeting, which was an interesting insight into the workings of the association. In the Q&A I asked a question about the marketing initiative, and whether we should be marketing to students and young people as well as corporate interests. The answer was that we need to put more things in place to make Drupal accessible to that audience first, which I think is fair enough, though I hope they follow through on this, as I think without new blood coming into the community, we will be in trouble.
My final session of the day was the mentoring issue triage, where we worked through suitable issues for Mentored Contribution on Friday.
The evening was horrid and wet. Someone suggested a French restaurant, so a group of us went there. However, we hadn't booked, and they couldn't fit us. We ended up in a nearby bar to decide what to do, and nobody wanted to go back into the rain, so we ate from their food menu, which was mostly burgers. I went with the chicken burger.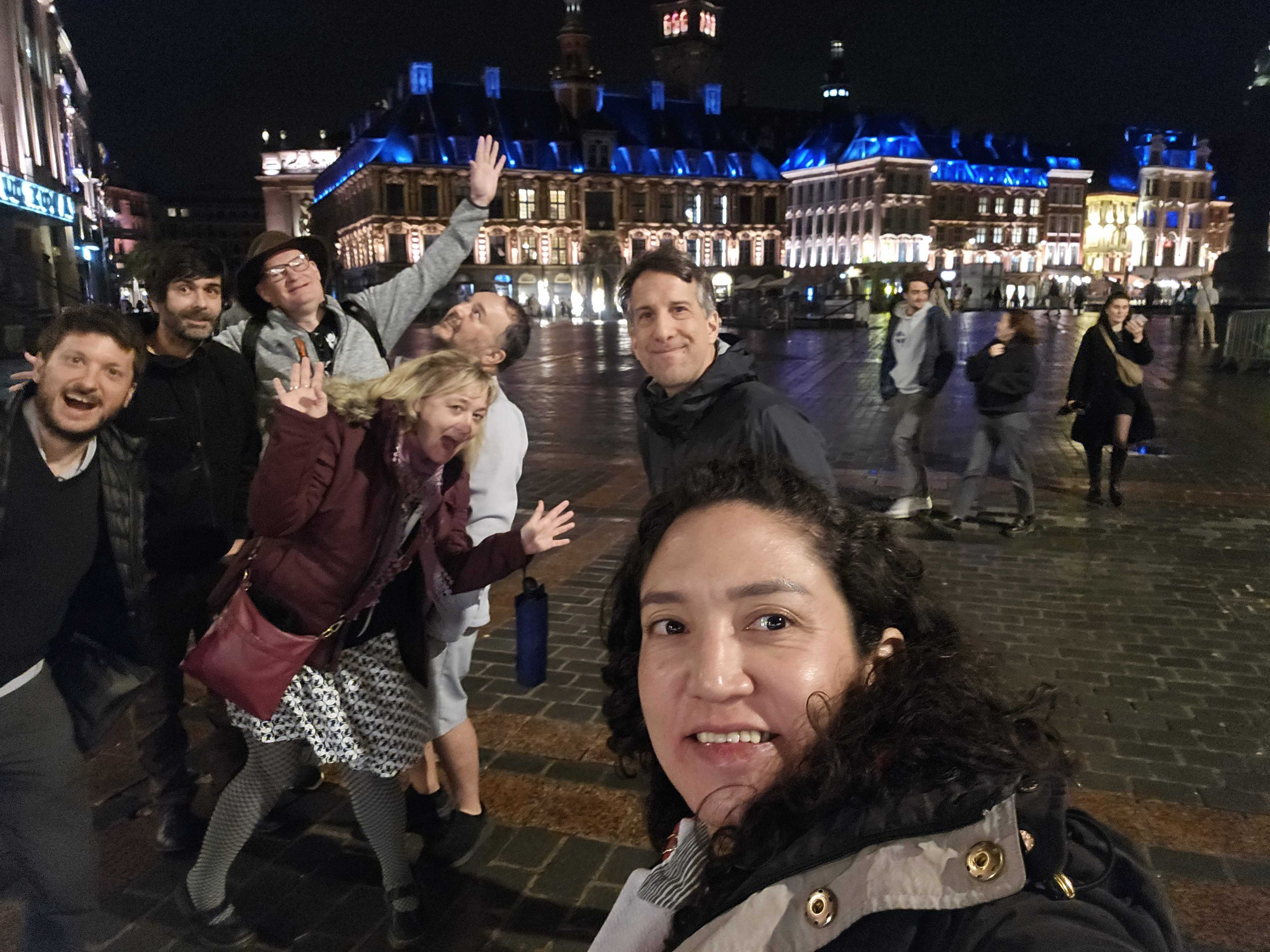 Someone suggested crashing the Belgian party. On the way, we crossed the square and took some photos.
We got to the party, and it was super busy, so some of our group decided to go to the quiet bar next door. However, I'd just been handed a a drink voucher, so free drink won out.
Our groups re-merged and we sat on heated seats for another drink. We were about to head our separate ways, but most of us had to pass the train station to get to our respective accommodation, and when we got there we decided to stop in a bar for one last drink.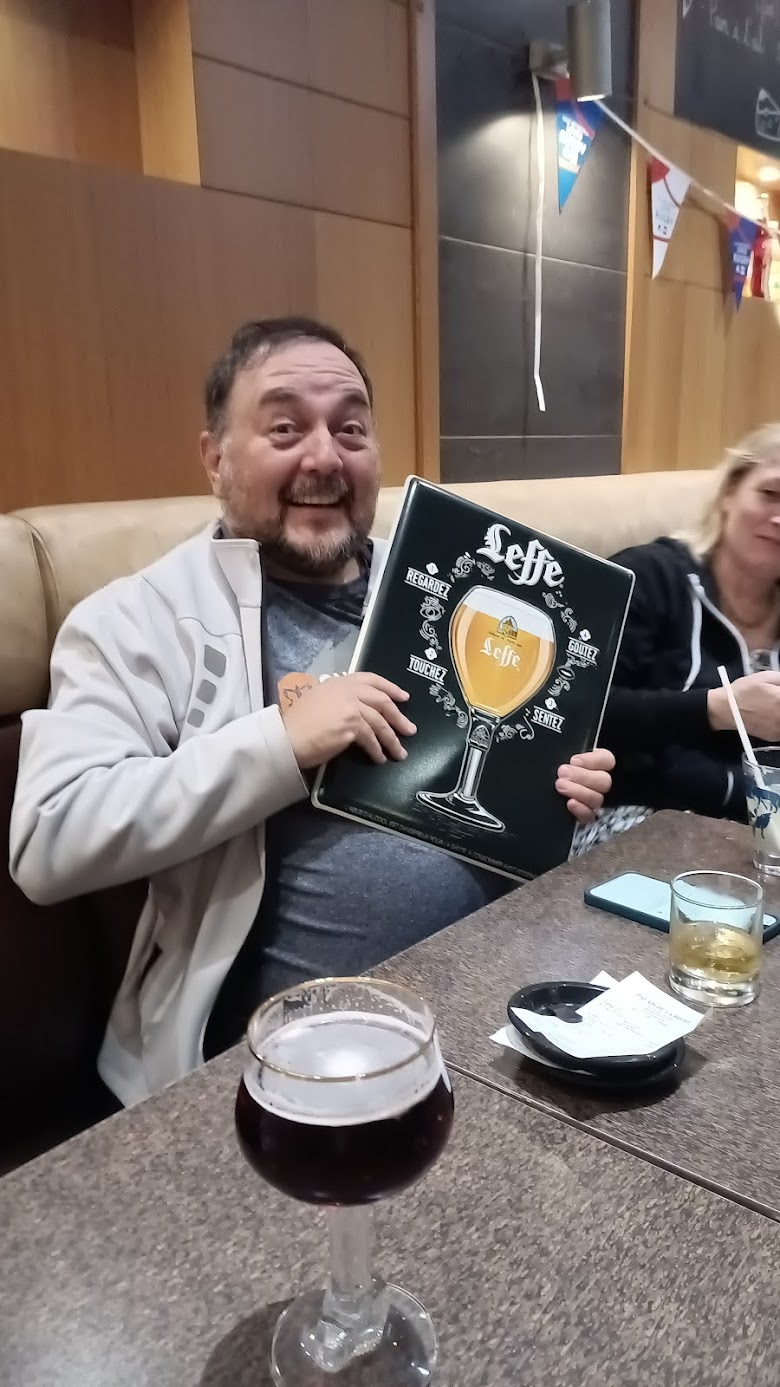 In this bar, Markie had apparently made an impression on the staff, and for some reason that made perfect sense at the time, but is no longer clear to me, they brought him out a huge picture of a glass of beer. He politely declined, explaining that it wouldn't fit in his luggage, so a few minutes later they brought him out a smaller one, to his clear delight.
Thursday - DrupalCon Day 3
After a bit of a late night, a lie-in on Thursday morning would have been tempting, but but there were several really tempting talks to choose between in the first slot, so I dragged myself to the venue.
I decided to go to Mike Hershel's presentation on Single Directory Components. This is a really interesting new feature in Drupal 10.2, and something I'd like to use in some of my projects. There were a couple of other presentations of interest, but fortunately I can catch up on the recordings later.
Mike's presentation was pretty packed, but there were still some seats available, though there were quite a few people standing by the end of it. Despite some technical difficulties playing video, Mike was able to talk us through moving logic into components, and it seems a pretty smooth process. I also like how components can be overridden in themes.
For the next session, I went to the Starterkit presentation. Starterkit is a new way of building a fresh theme from a template theme, that is easier than copying and renaming, but doesn't require the theme to keep its CSS static the way subthemes did. This presentation was specifically talking about turning the Olivero theme into a Starterkit theme.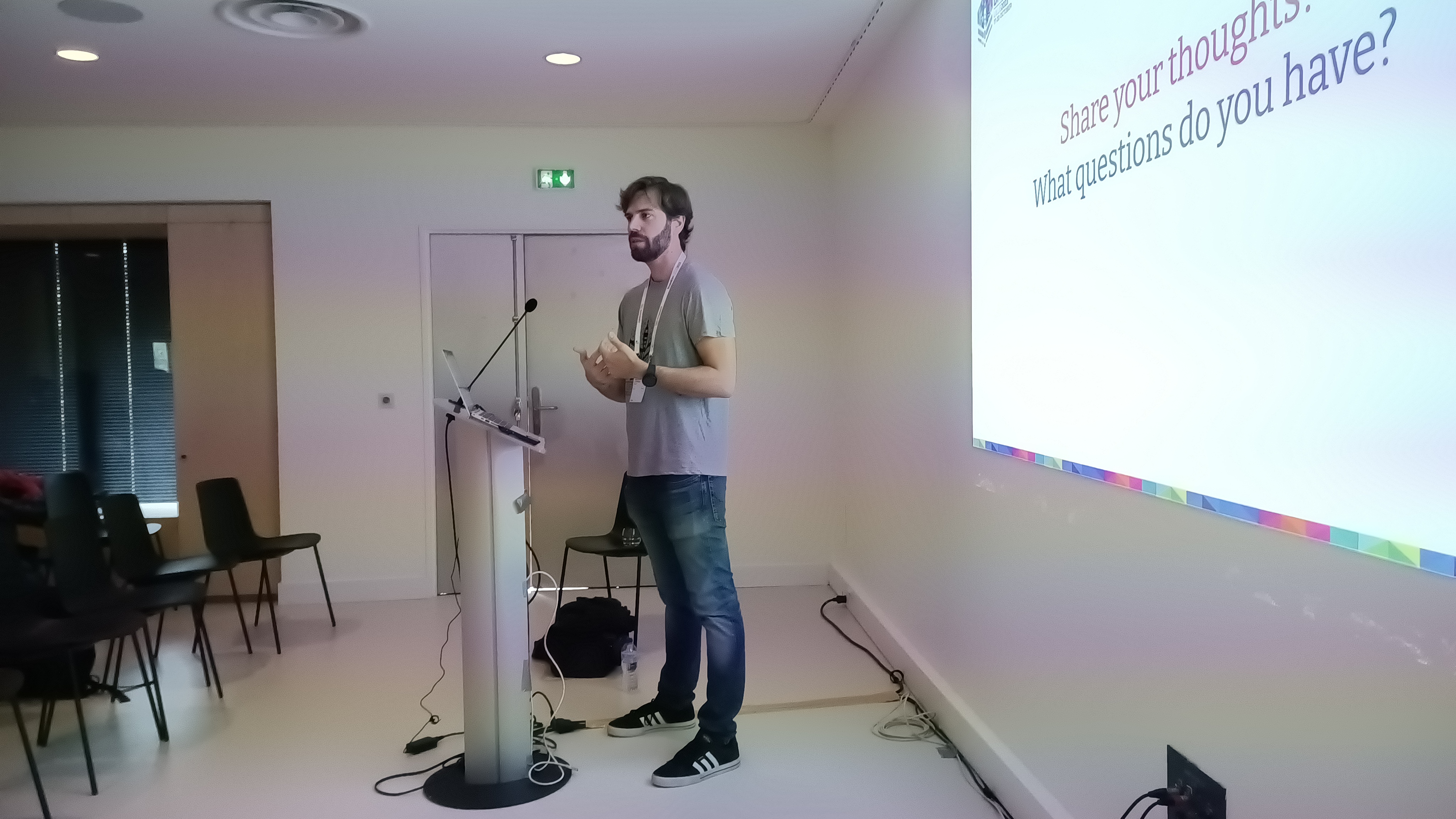 For the next session I was volunteering as session monitor. I had to note the attendance numbers, and pass around the microphone during question time, as well as monitor for questions coming from the app. The presentation was on strategies for overcoming software development challenges, which was mainly about managing projects. It was pretty interesting and if I hadn't been volunteering I might not have attended, so yet another reason I'm glad I volunteered!
I had planned to go to the Initiative Leads session next, but I managed to sign up for a coveted slot at the massage booth, which happened to fall in its time slot. After last year, I had decided not to prioritise sessions too highly, since the recordings are all available after. I have since watched the recording, and it was a very good session, but I don't regret not seeing it live. The massage was great for helping the muscles to relax, and getting a few minutes of calm in a busy week.
For the next couple of hours, I was on the Mentor booth again. There were a couple of other members of the mentor team there to chat with, and plenty of people stopped by, so the time flew fairly quickly. It was still less popular than the massage station.
After that, I went to a BOF about the new Admin Toolbar, which is a pretty exciting project focused on making it easier to find parts of the Drupal user interface, and making Drupal easier for new users, with task focused features. This session was specifically about creating content.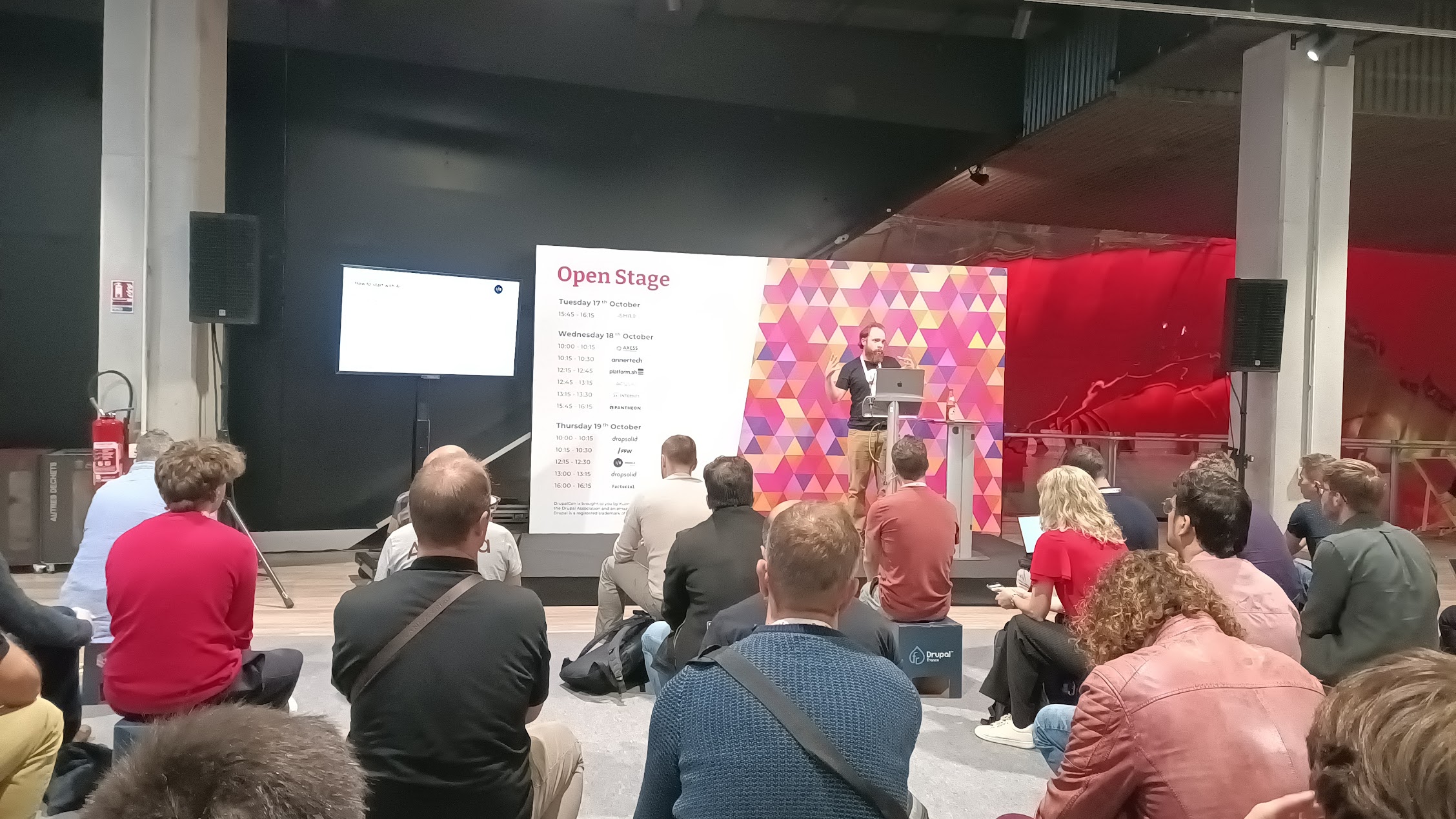 In between other sessions, there were short talks on the "Open Stage", and I stopped by an interesting one on AI. I have ethical issues with the way some of the AI models are trained, but in the example they demonstrated, they'd used open source software and training models. It sounds a potentially more equitable model. 
Next I was volunteering as session monitor again. This time there were two 20 minute sessions packed into a 45 minute slot, so I was monitoring both sessions. The first was on caching, which is definitely a topic I'm interested in, though in 20 minutes they didn't get into a huge amount of detail, so I didn't learn much new from it.
The second session was on using Paragraphs and Layout Paragraphs to improve the contributor experience. It was pretty interesting, and I'm definitely interested in experimenting with the techniques described. Both sessions filled their time slots, so there wasn't time for questions, so the monitor role was pretty much just noting the attendance, and trying to drop subtle hints to the presenters that their time was almost up.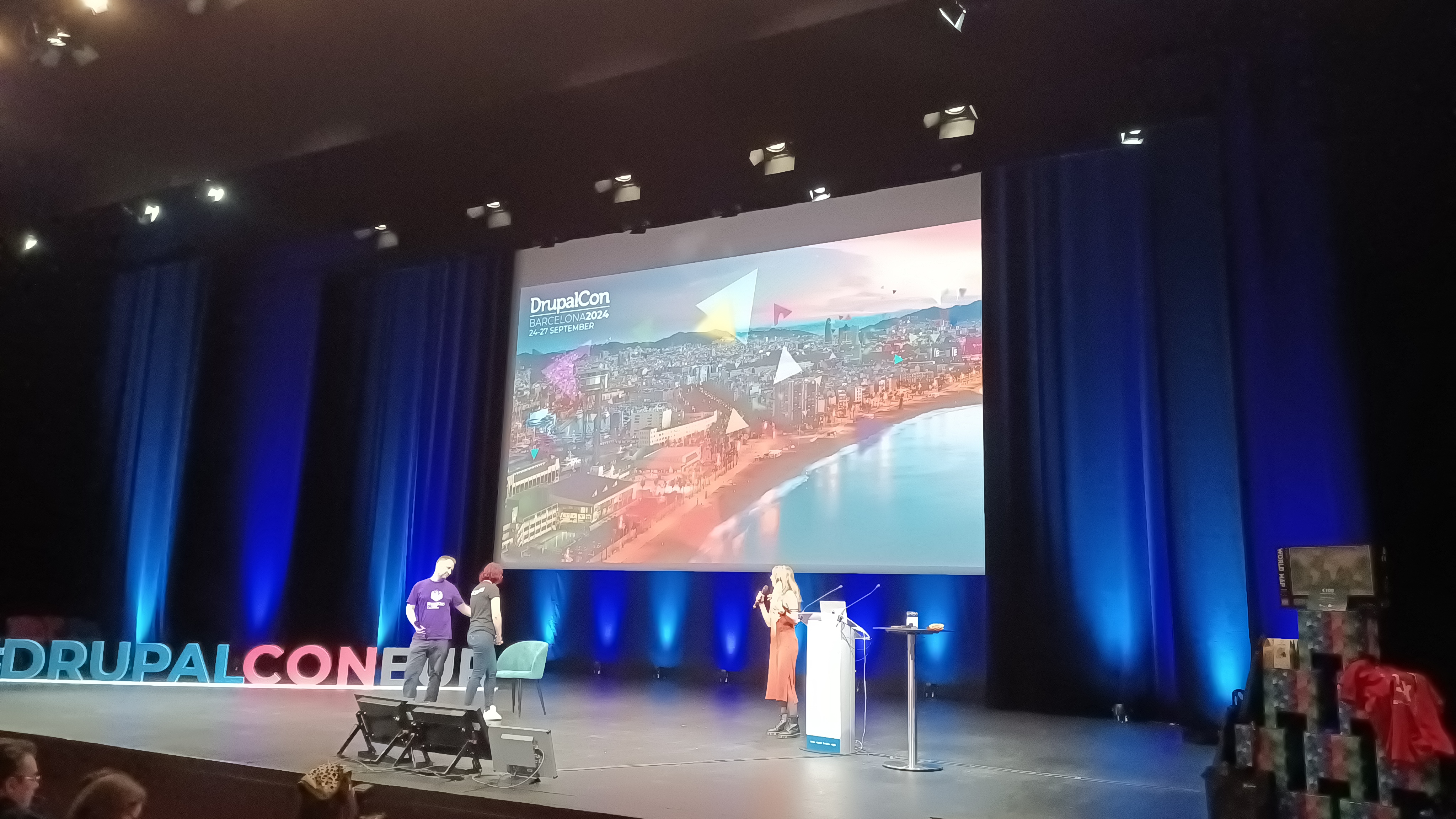 It was then time for the closing ceremony.  This started with the usual thank yous, and moved on to a somewhat drawn out reveal of the location of next year's DrupalCon. Many Drupal events were promoted, including DrupalCon North America in Portland, and Drupal Dev Days in Burgas, Bulgaria. Finally, it was announced that DrupalCon Europe will be in Barcelona.
There was also the announcement of the winner of the auction for 'Lil Rooster, the event's mascot, which raised €1300 for charity.
And the final order of business was the drawing of the winners of tickets for next year's DrupalCon. On the event app we were encouraged to scan all the vendor booths, and perform other activities to earn points, which converted to tickets in the raffle. I think I was in the top 15, so felt I was in with a chance. Last year I got a very nice FFW backpack out of it, so I was keeping my fingers crossed. I didn't get a ticket, or the other prize of a giant LEGO World Map set (though that would have been a pain to get home), but I did get the very last prize drawn, an Amazon gift voucher.
Thursday evening was Trivia Night!
For this we were in a bar in central Lille with various food options dotted around. However, we only had a small area roped off for DrupalCon people, and that filled up very quickly, so the rest of us were spread out through the floor with non-DrupalCon people mixed around us. Compared to last year's Trivia night, where we had a large room spread over two floors to ourselves, it felt sub-optimal. The venue felt a bit too much like a food court.
It was good to have food available at the venue, which wasn't the case last year. I ordered a pizza, which was very good, though the menu was only in French. I know, how hard is it to order a pizza?
Our team consisted of Chris and Leslie, who are heading up the Project Browser initiative, as well as Gilles from France and Maarten from the Netherlands.
The questions were challenging, as usual, with a mix of Drupal specific ones and some general knowledge questions, as well as some specifically about Lille and the surrounding area. There were some picture rounds, and the logo round contained a variety of logos, generally with the name removed, some of which were surprisingly challenging.
There were also some spot prizes. We won one for best team name with "Cache me if you can".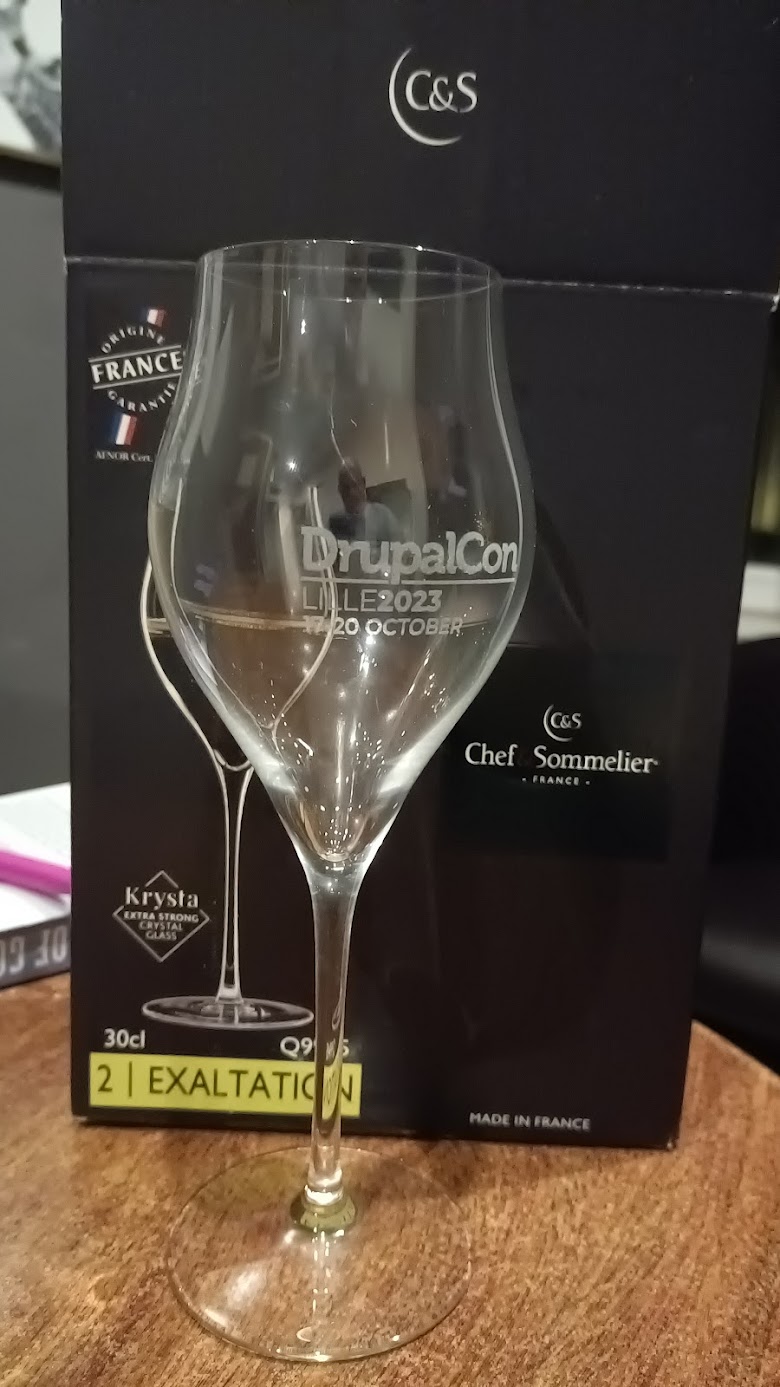 Every couple of rounds, they listed the scores, and we were consistently close to the top. At the end, we were joint second. However, Chris had bought the judges a round of drinks and a chocolate brownie, so we got second place and the other dropped to third. Bribery pays! Our prize was a very nice set of wine glasses with "DrupalCon Lille" engraved on it.
After finishing our drinks, we called it a night as we had a busy day ahead of us.
Friday - Contribution Day
For the final day, all the mentors were meeting early to get set up and have a mentor briefing.
We all donned our green mentor t-shirts, and the experienced mentors added tape in the sleeves to indicate they know what they're doing. I'm sure there's an elaborate rank system for colour of tape and number of stripes, but I haven't been indoctrinated into that as yet.
There were two contribution rooms, a general contribution room, and the mentored contribution room. People who didn't need help were in the first one, and the second one was divided into different groups. The first-time contributor workshop was run at the front of the room, and some of the new mentors were sitting with another mentor while they learned the ropes, but most moved to their own tables as the day progressed.
There were two tables for Project Browser, Leslie was running one where people were working on short descriptions, and I took one for logo designers. Alex and Chris started working on logos. There were a number in need of review, and a couple needing design work. Alex's work computer wouldn't allow him to attach files to issue queue posts, so he was emailing to me to upload. I also worked on logo previews. During the day we moved a couple of logos to "Reviewed and Tested by the Community". Several more have been moved forward in various ways, and hopefully a bunch will continue to be progressed over the next few days.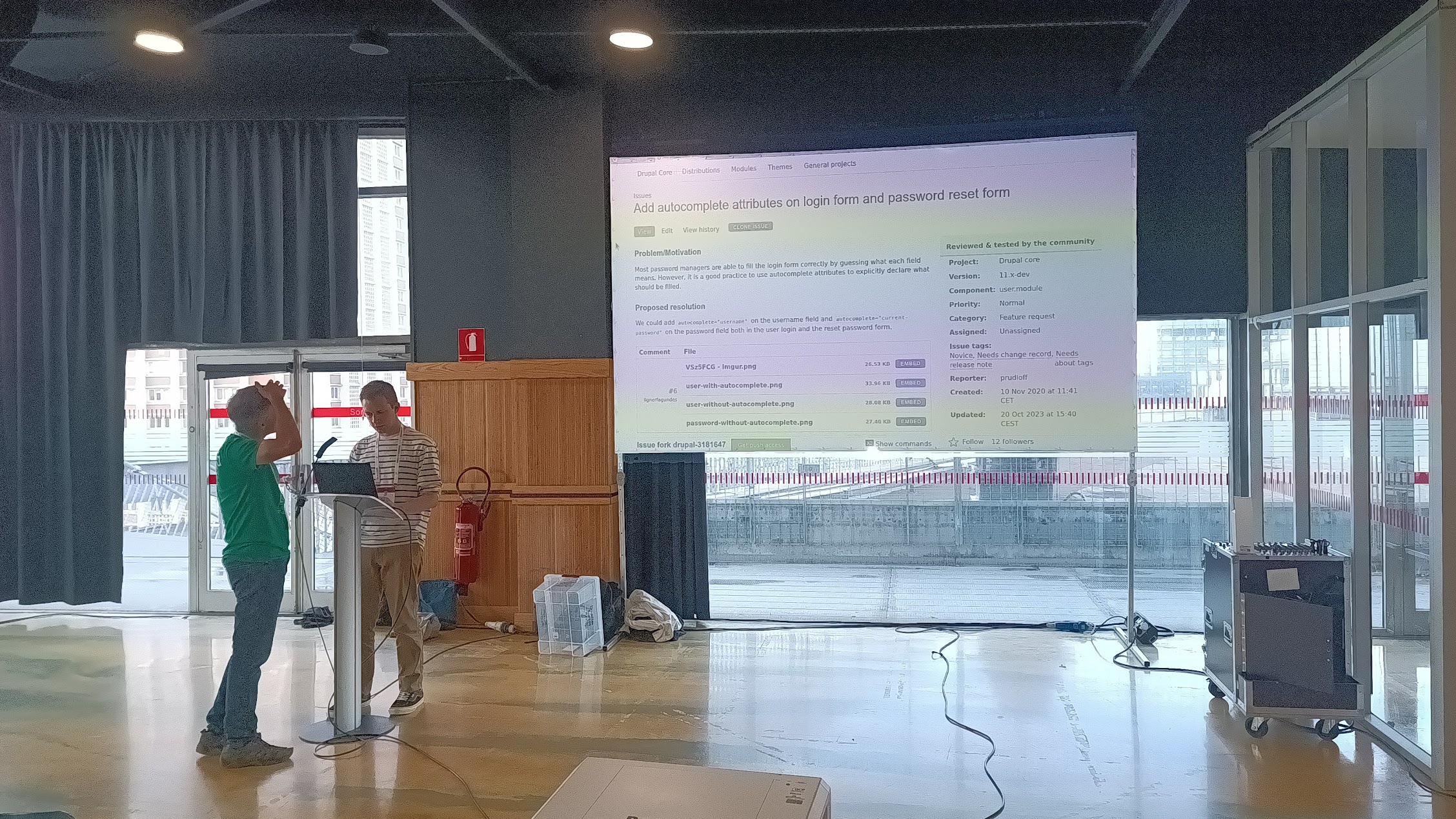 Part of the day was a "live commit". This is where an issue is picked up and worked on during the day, reviewed, and finally merged into core, all in one day.I got asked to review this issue, which was about the accessibility properties on the fields on the Drupal login form. At the end, some of the team went to the stage and completed the merge. It will be nice to think that I made a small contribution to making the login page a little bit better every time I log into a Drupal site.
At the end of the day, I needed to get to a bus to Brussels airport. I found where the bus was going from, which was a ten minute walk from the convention centre. My booking said to be there 15 mins early, and I arrived in plenty of time but no sign of the bus. The scheduled time of the bus came and went, but still no bus. After a few more minutes, I starting asking people waiting if they knew of the bus, and eventually found someone else waiting for the same bus. It finally arrived about 10 mins late, and we set off, with the two of us the only passengers (it had been much fuller arriving).
We made up most of the lost time on the way to Brussels, and got there in plenty of time for the flight. I went looking for food, but most of the restaurants were closing, and none of the remaining options appealed to me. As I was still quite full from lunch, I just had a beer. I went to the boarding gate, and after I was there quite a while, I found the flight was running late. Unfortunately by this point it was too late to go back for another beer. Eventually, the plane turned up, but it was almost an hour late by the time we took off. It was fairly uneventful after that, but it was after midnight when I eventually got home.
Mentoring is a fantastic way to participate in and enjoy DrupalCon and contribute to the Drupal project, and I'd encourage everyone to give it a go.